1969 Ford Mustang Convertible

302 2v v8 • Auto Transmission • Professionally Restored






---
Let Me Tell You About the Owner...
Click any Pictures to Supersize!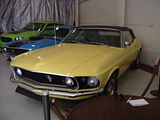 Mark met Paul out in New Mexico and saw the large collection of cars that he sells, which include classic Mustangs and modern street rods. Paul sold his 1969 Convertible to a restorer twenty years ago, and bought it back about two months ago! It might have taken the restorer a while to get it done, but get it done he did. Paul's friend Frank, who owns a 1970 Boss 302 (don't worry, we're working on getting that one up too) did all of the body work and paint on this car, and did a beautiful, professional job. Now we're helping Paul sell this beauty, and at a great price.




Thank you for helping us save this beauty! She needs to be in the right hands: someone that will garage her, drive her, and love her.
---
MustangOnlyOne Summary:
What makes this 'Stang so unique is that it is a 1969 Mustang Convertible which was recently restored, with only 26,000 miles on the rebuilt engine! It has a 302 2v engine with a C-4 Auto Transmission, both in excellent condition. This New Mexico car is rust-free and in beautiful, restored condition. Overall, this is a very straight-ahead 1969 Convertible with few options and mostly standard equipment, perfect for someone who's just looking to drive a classic, but not a flashy or extremely powerful car--though the 302 is quite powerful in its own right. For overall frame preservation and reliability, MustangOnlyOne gives this car a 10 out of 10 points, as it is rust-free, solid, and drives great with low mileage. For overall quality and performance, MustangOnlyOne gives this car a 9.8 out of 10 points, as it is very well restored and a nice, simple, straightforward '69 'Stang that is priced great, though it does have a slight transmission fluid leak, that is probably due to not being driven lately.
For VIN Decoding:

For NADA Pricing:
This is a classic car in excellent condition and ready to hit the road. It can be trustfully driven anywhere. We guarantee satisfaction with this vehicle upon final inspection and we will assist in loading for transport. It has no other warranty or guarantee of any kind and is sold as is. All we can do is describe the vehicle for full disclosure as detailed as possible, inside, outside, and underside. This vehicle is sold on consignment by MustangOnlyOne for the original owner. MustangOnlyOne has performed a complete inspection and appraisal of this vehicle. We also provided the photo session and listing. We are very proud to offer this 1969 Ford Mustang Convertible for auction.
Bid with Confidence!
---
MustangOnlyOne Inspection:
These are our more detailed inspection pictures, which include all visible damages and customized extras.
Please examine them carefully before making your decision.
If you have any questions about this or any of my other auctions please feel free to contact us
via email
or call us at 1-904-860-4102 9:00am to 9:00pm Eastern Standard Time. We are located in bright sunny Florida.
Thank you for your interest, we look forward to hearing from you.
---
SOLD!
Well, Dan's Mustang is off to a new home! Our partner, Mark, helped close the deal and ship this convertible off. See a slideshow of the loading below.
Return to previous page