1970 Ford Mustang Mach I

351C 4v V8 Automatic • Numbers-Matching • Completely Restored

Randy's Asking $38,000.00 obo

SOLD to Bud in Florida for $35,000.00!






---
Let Me Tell You About the Owner...
Click any Pictures to Supersize!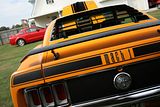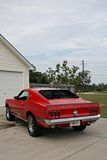 Randy and Sissy are a good old southern couple who just absolutely love classic cars, especially fastbacks and the big muscley ones! They are a husband and wife team who get and restore the cars together, which makes Sissy a rare find (right guys?). She definitely helps them get things done and get the cars they want! We sure are appreciative of their efforts, and the great finds they've got! Check it out: Sissy's favorite car, a 1969 Mach I (two left-most pictures above)! Sorry, it's not for sale; neither is their brand-new Mustang GT (picture further down below, in that great lineup of all their cars)! Sissy says they only buy V8s, and that a straight-six is a waste of time! Randy's baby is the grabber orange 1970 Mach I with a big-block 351 Cleveland, which IS for sale (we're working on getting this one up right now, so keep checking back!), shown in the right-most two pictures above. To the right below is a picture of a 302 Randy has restored and modded himself that is going into a 1970 Boss 302 clone that he's making himself. Man, we don't know about you guys, but we sure love Bosses, especially the 1970 model...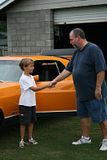 In the center above is Edward (on the right) shaking hands with the owner of these cars, Randy himself! Okay, maybe not: that's actually his son, who we're sure is going to grow up loving these cars as much as his parents do. Unfortunately, Randy and Sissy are a little camera-shy, so they'd only let us take pictures of their cars--but aren't you glad they did?
But about that 1968 Fastback we're selling: the crazy thing is that this car belonged to Sissy years ago, when she was practically a kid. After selling it and parting ways for many years, she and her husband Randy miraculously stumbled upon it again, and by this time they were much wiser as to its value! They bought it immediately, and ever since she has (re-)owned what has literally been a piece of her history.
At this point, you may we wondering why in the WORLD Sissy and Randy are selling these AMAZING cars, right? We wondered the same thing. The story behind that is that Sissy and Randy own a bit of property on which they used to have a house, until it burned down very recently (they are literally still cleaning up the remains). Don't worry, no one was hurt, and all the cars were elsewhere, but we can understand how much they must miss the house. It is for this reason that Sissy and Randy are selling these cars: to get enough money, in addition to their savings, to build a new house on their property that will be their very own!

Thank you for helping us save this beauty! She needs to be in the right hands: someone that will garage her, drive her, and love her.
---
MustangOnlyOne Summary:
What makes this 'Stang so unique is that it is a 1970 Mustang Mach I that has been restored back to factory specifics! It has a 351 big-block Cleveland, an engine with a lot of power, significantly more than its 351 Windsor counterpart, and less than 3900 miles! This car also has power steering, power brakes, air conditioning (that is currently disconnected and needs to be restored and reinstalled), and a top-of-the-line FMX Automatic Transmission, which has also been professionally restored by Randy himself. This car is very rare: it is 1 of 1,657 cars produced with this car's specific paint and trim codes! For overall frame preservation and reliability, MustangOnlyOne gives this car a 10 out of 10 points, as it is practically rust-free and runs great--lots of muscle and style to boot! For overall quality and performance, MustangOnlyOne gives this car a 9.5 out of 10 points, as the restore is not 100% complete: the A/C must still be restored and installed, and the car has a power steering leak (note that the steering wheel will be restored by the time of purchase, and as such we consider it completed). However, this car is immediately driveable and reliable, and the buyer can get the A/C fixed and installed quite quickly if they so choose, to get this car in perfect shape!
Update: Randy has spent a lot more time and money finishing up this beautiful show-car Mustang! He has completely repaired the air conditioning and hooked it all up, fixed the power steering leak, and has completed the restoration on the steering wheel, which cost about $1,000! He has also had a professional paint shop go over his Mustang meticulously to touch up ANY paint imperfections they could find, so this Mustang is now PERFECT.
For VIN Decoding:
This is a classic pony car in great condition and is road ready. This auto can be trustfully driven anywhere. We guarantee satisfaction with this vehicle upon final inspection and we will assist in loading for transport. It has no other warranty or guarantee of any kind and is sold as is. All we can do is describe the vehicle for full disclosure as detailed as possible, inside, outside, and underside. This vehicle is sold on consignment by MustangOnlyOne for the original owner. MustangOnlyOne has performed a complete inspection and appraisal of this vehicle. We also provided the photo session and listing. We are very proud to offer this 1970 Ford Mustang Mach I for auction.
Bid with Confidence!
---
MustangOnlyOne Inspection:
These are our inspection notes and pictures of all visible damages and customized extras.
---
MustangOnlyOne Update:
At the request of a potential buyer, we have taken a bunch of new photos. Check them out below:
If you have any questions about this or any of my other auctions please feel free to contact us
via email
or call us at 1-904-860-4102 9:00am to 9:00pm Eastern Standard Time. We are located in bright sunny Florida.
Thank you for your interest, we look forward to hearing from you.
Return to previous page